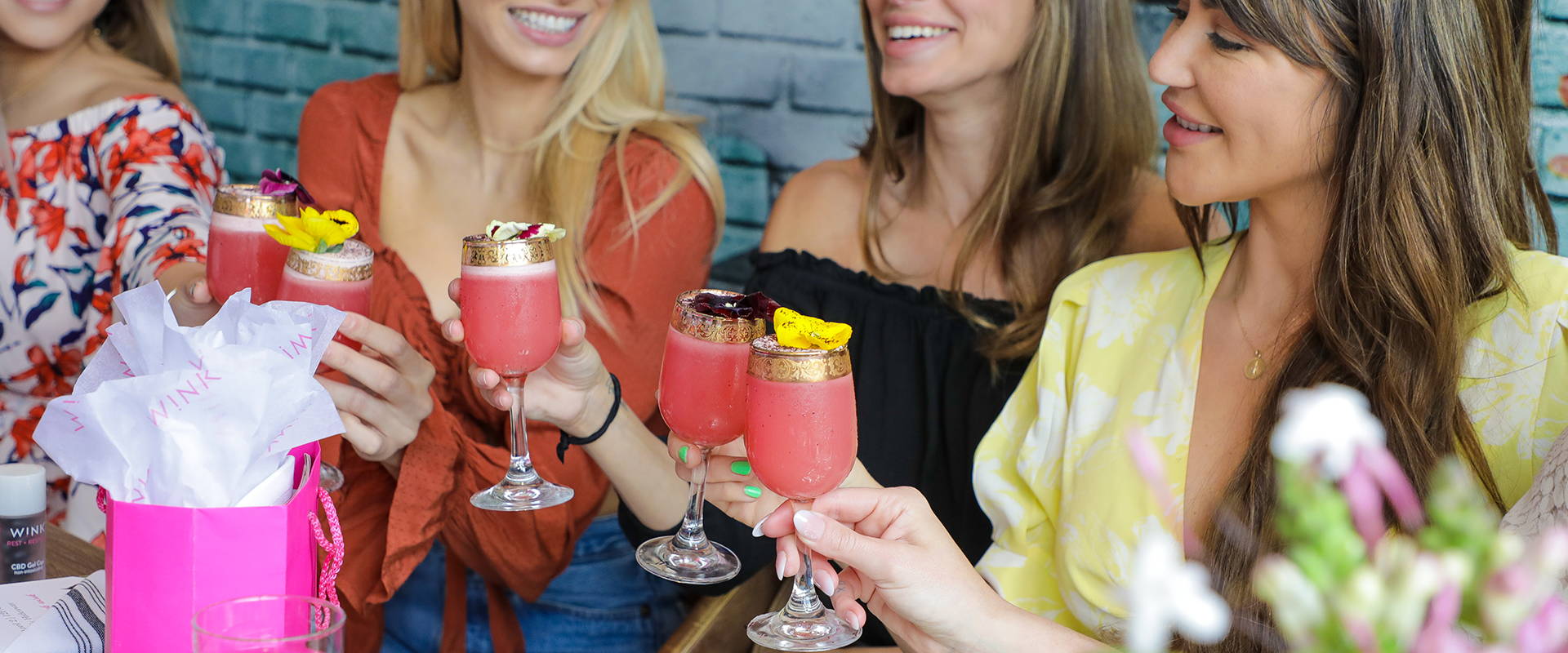 W!NK recently launched the SheW!NKS Entrepreneurs program. The Fresh Toast thinks we're on track to be the Avon of cannabis beauty. Are you ready to take the plunge into cannapreneurship?

We're excited for you to jump in with W!NK! If you've made your first purchase as a SheW!NKS Entrepreneur, you already know we have a wealth of education and support to help you get started and stay slaying.
While we're always adding to our marketing and sales materials, and providing the newest information and research on CBD wellness, there are a few things we can't do for you. But that's ok.
You know why? Because these things are all about you, your preferences and your schedule.From deciding and building your personal brand to keeping up with your contacts, we've got a few ways to help you keep calm, cool and collected.

You're not just a SheW!NKS Entrepreneur. You're YOU. You're the person people turn to for _. You're the one your friends call when _____.

The words you used to fill in your blanks are part of your brand.Begin to define your personal brand; what kind of source do you want to be? Are you focused on women's health? Are you the yoga teacher who always has an all-natural option for your students? Are you the mom who has battled post-partum life? The canna-connoisseur? Or are you the answer to a stressful week/life (we LOVE a good pool party!).
Figuring out what kind of style you represent will help you define your audience and methods of communication. Still not sure? Ask your friends. You'll be pleasantly surprised. ;)

When you jump into the SheW!NKS life, you are of course able to do whatever you want with it.

We do suggest, though, that you begin by choosing your brand and audience, and then stay in that lane.
Once you decide your audience, you'll be able to craft your messaging, marketing, events and sales towards that specific demographic. You'll begin to find what we call 'your brand voice' and use that voice to provide your audience with the information, inspiration and support they need to try, and fall in love with W!NK.
Further, by keeping your messaging on point, consistent with your values as a W!NK CBD enthusiast, you'll find yourself naturally attracting the audience that is best for you.

Some of us will start out small and some of us already know hundreds of people we're going to share our CBD expertise. What matters most, is that you keep track of and in touch with them.

Each person you meet is more than a single lead. The woman who loves the W!NK CBD tincture you introduced her to is highly likely to recommend it to her friends and family. So if she's receiving your regular emails, she's even more likely to forward them to those who she believes would benefit.
Which brings us to the next tip:

SETUP YOUR COMMUNICATIONS PLATFORM
Sending a regular newsletter is a great way to keep your audience engaged and up to date on what you're up to, and what's in the pipeline.

It's also free and easy with platforms such as MailChimp. MailChimp has a Forever Free plan, that includes up to 2,000 contacts. The platform is filled with intuitive tools and a ton of resources, including beautiful email templates and a simple reporting dashboard. You can design, test and schedule emails within just a few steps, and be on your way to regular, branded content sent directly to your audience.
There are plenty of other options out there as well. Constant Contact is one of the largest and fastest growing email marketing services in the world. It is also considered to be very beginner friendly, with excellent user support. BenchMark offers a Free for Life plan as well. Drip offers a free trial, as does AWeber. Take some time to check as many as you want out. Get a feel for them and choose the platform you like best.

Basically nobody has cash anymore. Sigh. And for some reason, not everyone uses Venmo. Even longer sigh.

There are other cash transfer apps out there, such as CashApp, which is free if you wait for the money transfer, but also requires the other user to have the app. It can be inconvenient to fumble through app options when your W!NK event is in full swing and people are happy and ready to buy.
If you have a Paypal account, which you probably do, the PayPal Chip & Swipe Reader is efficient, easy and seamless. With the reader, the PayPal Here app helps keep transactions secure for you and your customers. It also sends invoices from the app or online and can even record cash and check transactions. You can find out more, and purchase your PayPal Chip and Swipe Reader for $24.99 here.

We will do our best to keep you updated on W!NK, CBD wellness, the cannabis industry trends and changes, we promise.

But you may find it interesting and beneficial to keep up with a few other trends on your own. Setting up Google Alerts allows you to receive regular emails with headlines related to the keywords you insert. Set up an alert for anything, really: your name, or W!NK, CBD for women, CBD spas, or whatever you want.
You'll receive regular updates on what's being published and what's new. You'll then be able to transfer that knowledge to your audience, making you an expert in your field.;)

Alright, that's a good start, right? We promise, once you get these pieces painted, the whole puzzle will be beautiful, unique and totally YOU.
And of course, if you have any questions, email us. We're happy to help you be successful!