3 STEPS TO GLOWING SUMMER SKIN
When it comes to glowing, blemish free skin, estheticians and dermatologists agree that your face and body skincare routine should include three essential steps: exfoliating, hydrating and protecting.
But, what appears to be a simple and easy path to beautiful, youthful skin can quickly become overly complicated when it comes time to find and choose skincare products that are not only high-quality and effective but also all natural and cruelty free.
To make it easier for you to follow this 1-2-3 step method, we're organizing our favorite W!NK spa products into each of the three categories and explaining - in detail - how each product is formulated and why you can expect to see major results.
This way to gorgeous summer skin...

Winter can be extremely depleting to the skin, leaving it dry and sensitized, so gentle, yet effective exfoliation is essential for removing that dead layer, which allows for your moisturizer to penetrate more effectively," says Courtney P. Chiusano, a holistic facialist and owner of Courtney Chiusano Skincare in Los Angeles to Well + Good.

When transitioning out of winter into spring and summer, exfoliate your skin once a week. But, once the warmer months arrive, how often you exfoliate your skin will depend on your level of activity and how often you're outdoors. Dr. Kally Papantoniou, a cosmetic dermatologist in New York, suggests: "if you are going to be in the sun for prolonged periods, like going to the beach or playing an outdoor sport, I would suggest holding off from any exfoliation," she says in Bustle. Dr. Papantoniou adds: "regular exfoliation helps to remove dead skin cells, unclog pores, and keeps your skin tone nice and even, allowing your creams to hydrate your skin better."
We recommend that in the summertime, you exfoliate your skin only after it's had a chance to recover from sun exposure. If you've recently had a little too much fun in the sun, we suggest hydrating your skin first and getting it to calm first before exfoliating (see step two).
EXFOLIATING PRODUCTS WE LOVE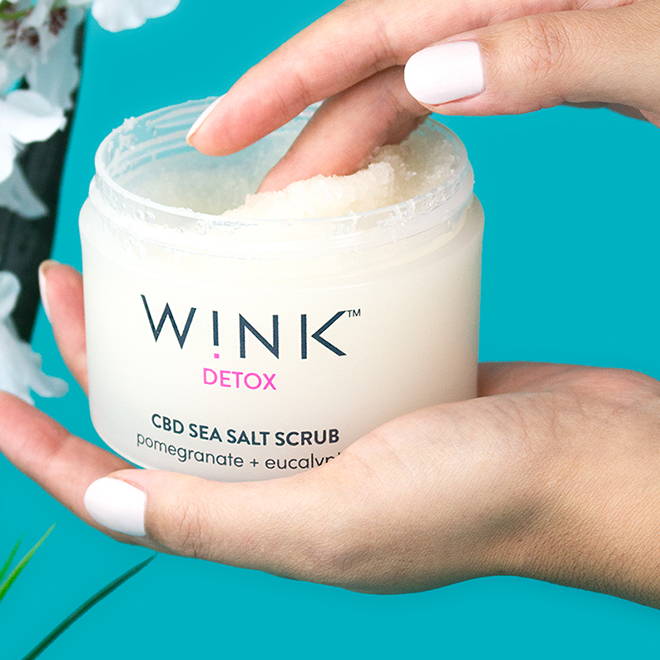 A raw salt scrub containing robust deep sea salt and epsom salt granules exfoliates and rejuvenates dry, rough skin. The salt duo and multi-cannabinoid hemp (CBD) oil work together to soothe skin irritations and inflammation. While a blend of all natural, plant oils including almond, safflower, sunflower, grapeseed, avocado, argan kernel, apricot kernel, coconut, eucalyptus and pomegranate seed deeply nourish skin for a silky-healthy looking complexion. Available in pomegranate and eucalyptus.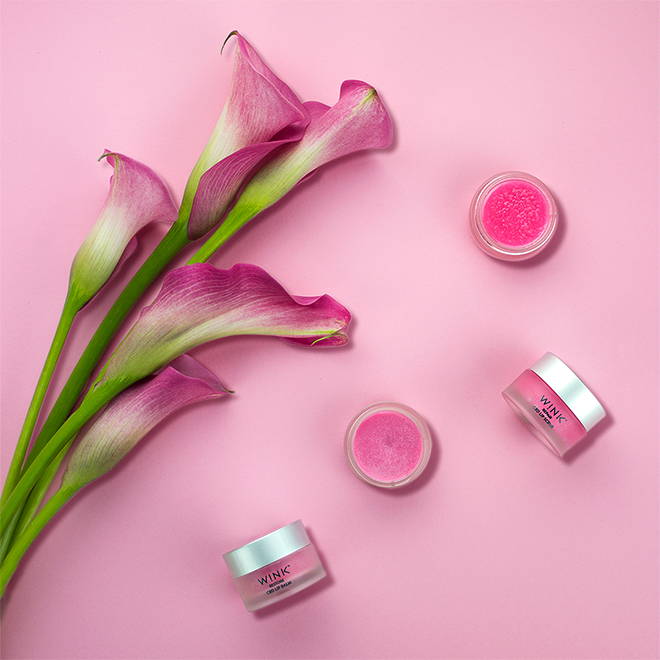 Gentle enough for daily use, small sugar crystals paired with natural humectants buff and revive skin. Consider this a mini version of W!NK Purify CBD Sugar Scrub, but suitable for your ultra-delicate lips.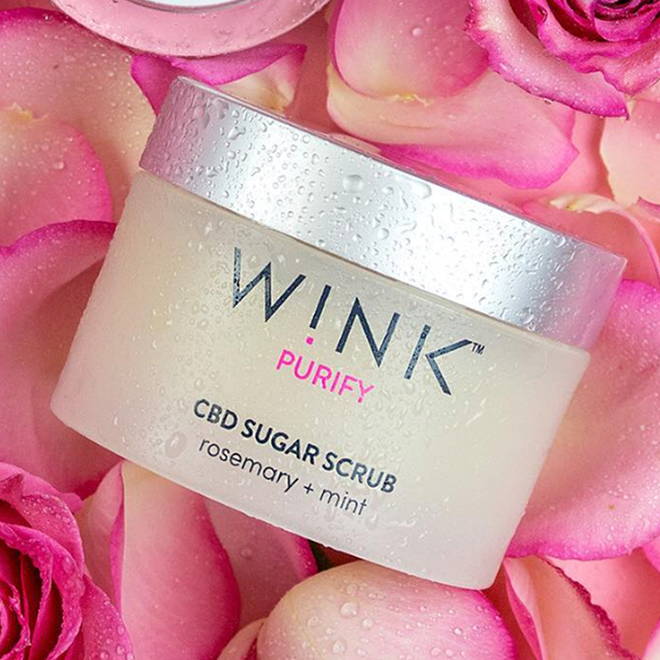 A gentle scrub that uses organic pure cane sugar to buff away dry cells for soft, supple skin. This luxurious, creamy formula also consists of almond oil, safflower oil, sunflower oil, grapeseed oil, avocado oil, argan kernel oil, apricot kernel oil, coconut oil all of which deeply nourish skin. Multi-cannabinoid hemp (CBD) extract, rosemary oil, and peppermint oil work to purify skin and calm any irritations.

As we continue to age, our skin loses its ability to retain moisture. Daily activities like cleansing can further strip the surface of your skin of its natural hydrators. To further compound this, sun exposed (or even worse, burnt) skin loses moisture and essential oils.
When choosing a hydrating skincare product for the summer, look for lightweight formulas that target inflammation, are ultra-hydrating, contain a high-grade of antioxidants and fight pigmentation - all common summer skin concerns.

HYDRATING PRODUCTS WE LOVE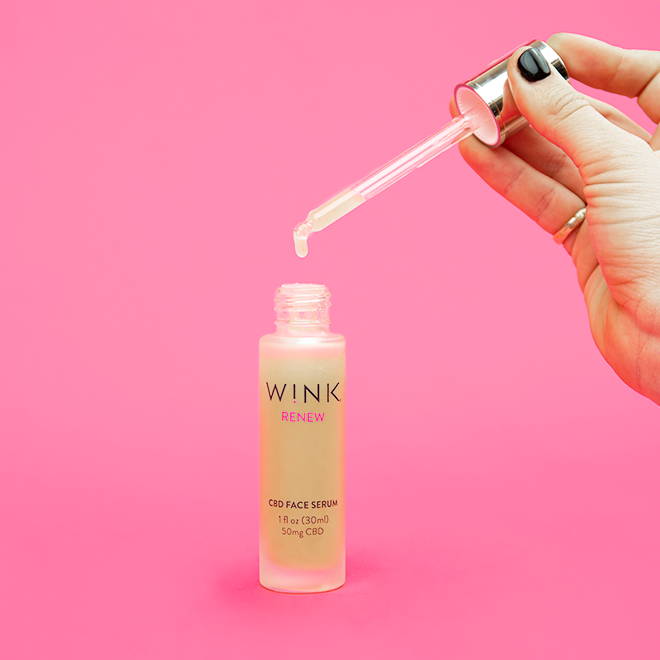 "Serums are more concentrated than creams, so you tend to only need a small amount daily to see results," says Fran Cook-Bolden to Women's Health, Director of New York's Skin Specialty Dermatology.
Add W!NK Renew CBD Facial Serum to your day and night routine to rapidly enhance skin tone and elasticity. A replenishing elixir of pure botanicals such as aloe leaf juice, hyaluronic acid, green tea extra, algae extract and grapefruit extract provide vital nutrients to promote skin recovery and hydration. Multi-cannabinoid hemp (CBD) extract dives deep to clear skin irritations, fight blemishes and reduce inflammation.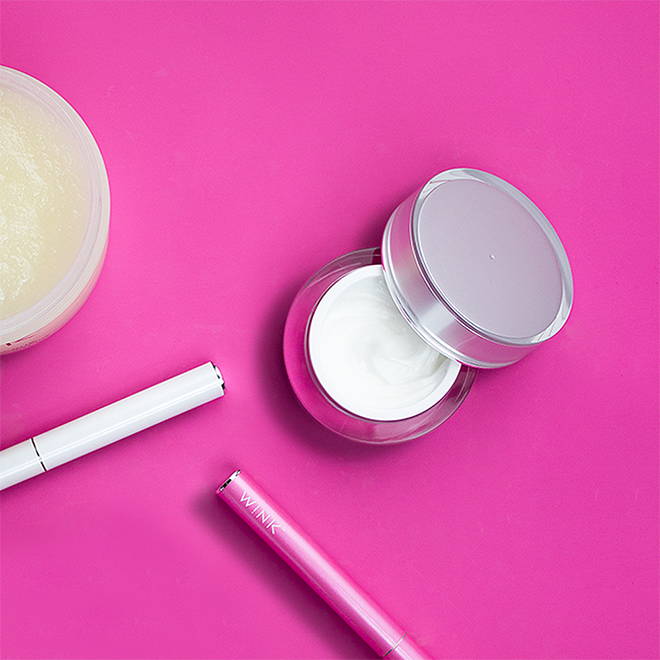 As the skin around your eyes is much thinner than the rest of your face, it's prone to show signs of aging and hyperpigmentation much sooner. This nourishing eye cream uses almond oil to hydrate and a proprietary blend of clover, st. john's wort, arnica, witch hazel, horse chestnut and ivy to minimize the appearance of dark circles. Multi-cannabinoid hemp (CBD) oil reduces puffiness for glowing, healthy looking skin.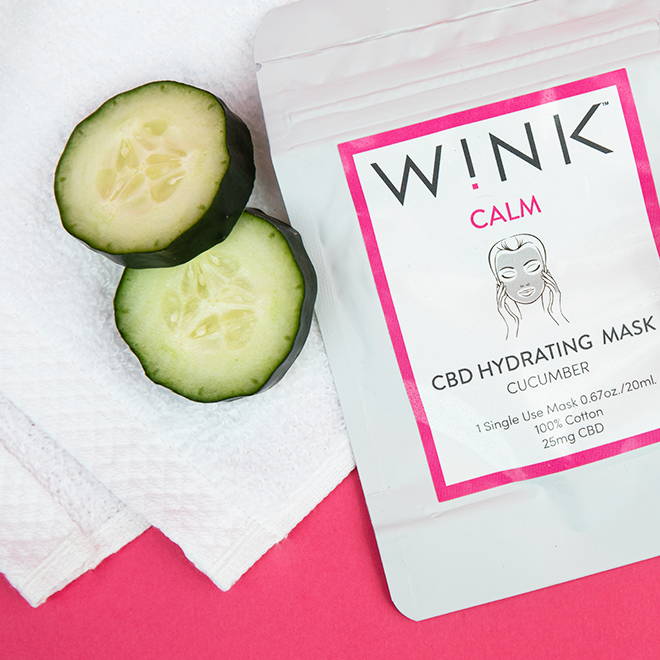 This 100% cotton sheet mask uses real cucumber extract and hyaluronic acid to deeply hydrate summer skin. Calm your skin in just 15 minutes with other natural ingredients like rose fruit oil, chamomile extract, turmeric root extract and of course, multi-cannabinoid hemp (CBD) extract.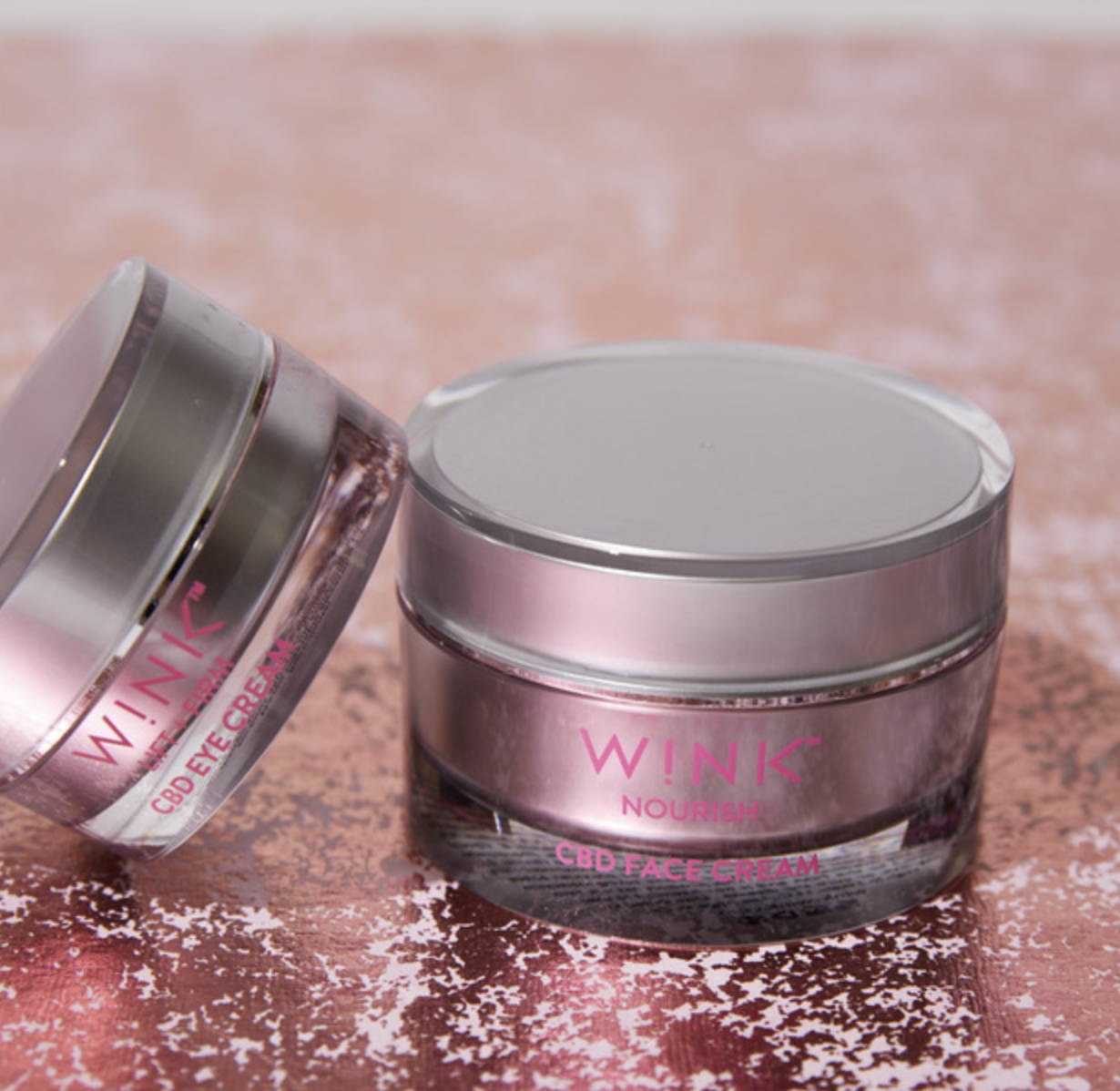 Vitamin C, coenzyme Q10, gingko extract, green tea extract, bayberry extract, pomegranate extract and vitamin A combine in this nourishing face cream to provide a powerful antioxidant blend, both hydrating and protecting your skin. Our face cream formulation also includes soluble collagen to help improve skin elasticity. Multi-cannabinoid hemp (CBD) extract works to clear skin irritations, reduce blemishes and target inflammation.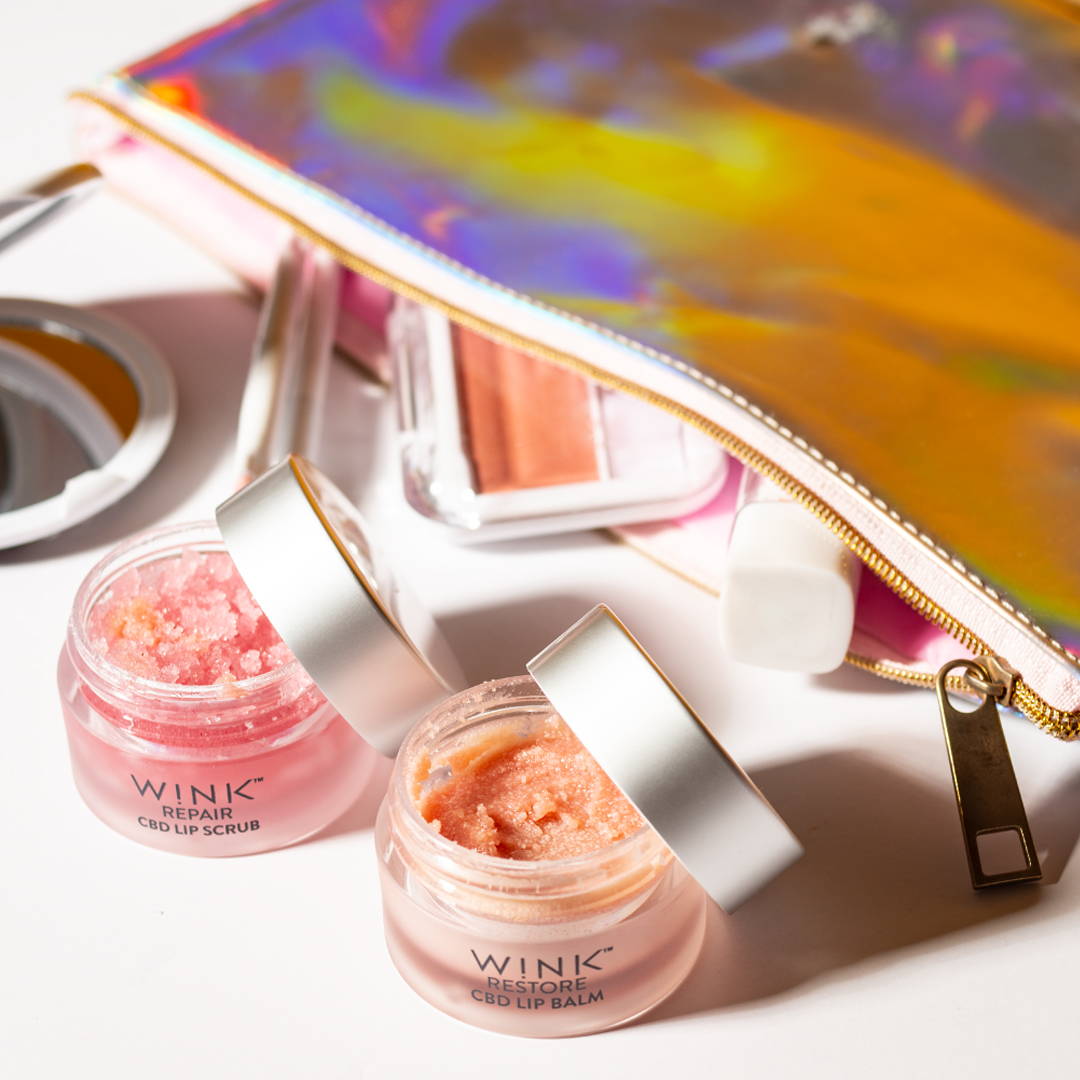 Perfect for use after exfoliating with W!NK Repair CBD Lip Scrub or on its own, this balm's natural oils, including shea butter, mango butter, oat, cocoa butter, apricot kernel, and macadamia nourish and moisturize. Orange oil brightens and tones lips, while lavender oil provides a soothing, natural antibacterial. Multi-cannabinoid hemp (CBD) extract calms and soothes inflamed summer lips while adding another layer of bacterial protection.

Dermatologists agree that sunscreen is, without a doubt, critical to your skincare routine - not only in the summer, but all year round.

"Daily and consistent sunscreen use helps to prevent the development of fine lines and wrinkles, textural imperfections, and changes in the appearance of pores over time. More importantly, daily sunscreen use can help to prevent the formation of certain skin cancers." explains Dr. Carlos Charles to the New York Times, a dermatologist in New York City.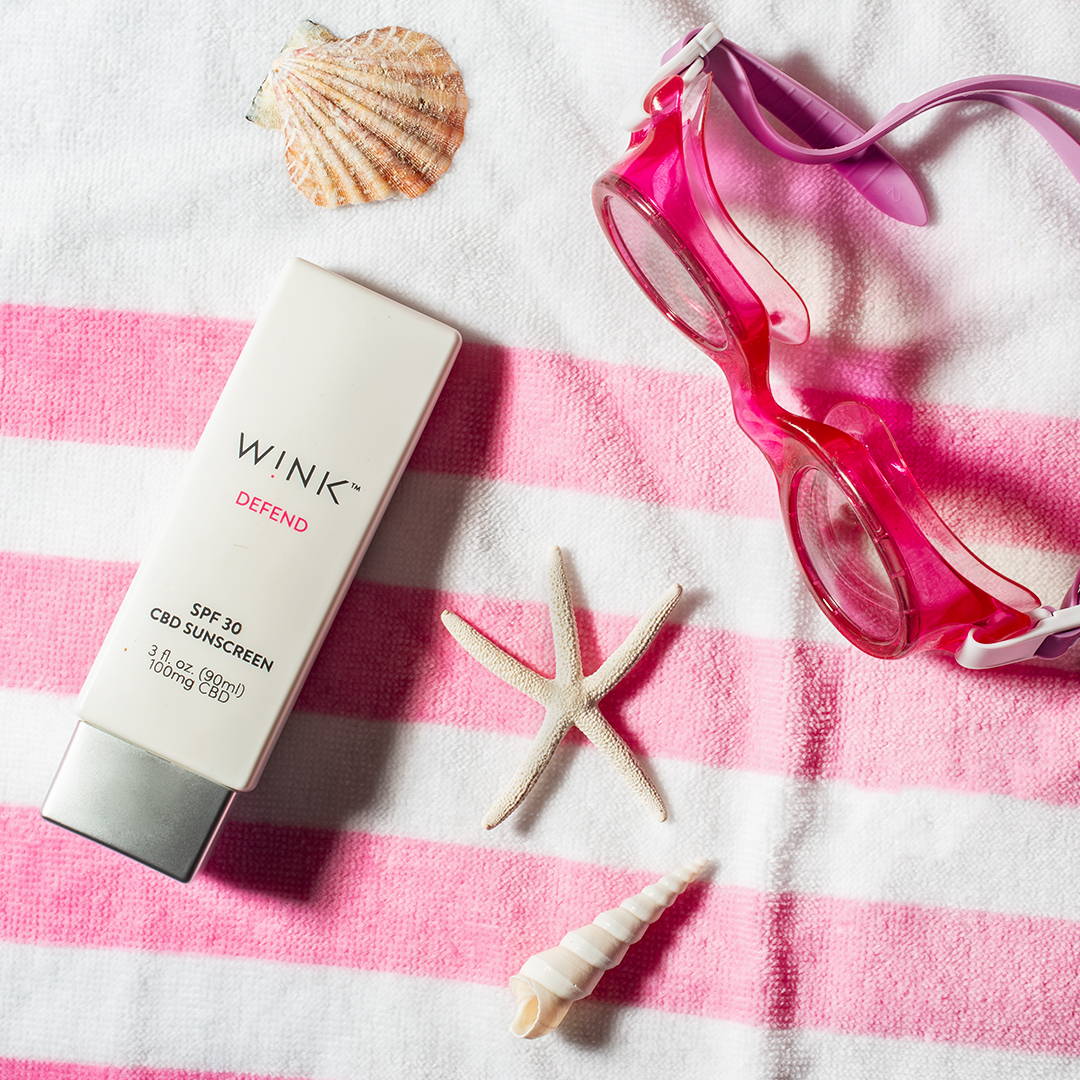 Cannabinoids paired with zinc oxide make for a powerful sun protecting duo. CBD in sunscreen enhances SPF, reduces redness and swelling and prevents acne and breakouts. W!NK CBD Sunscreen is made with all natural, 100% vegan and paraben-free ingredients, including: octinoxate, zinc oxide and multi-cannabinoid hemp (CBD) oil.
When choosing a hydrating skincare product for the summer, look for products that target common summer skin concerns.